The belief that men's fashion is less experimental than women's is one we know to be false, and designers like Kim Jones provide tangible evidence.
After taking the reins at Dior Men in 2018, the British designer has seen one of the most celebrated debuts of anyone in his field – bringing a signature drama to the iconic French house, which is hard-to-find in other aspects of menswear. His past collections have included graffiti-adorned collaborations with Stüssy, as well as Hajime Sorayama, the well-known Japanese illustrator whose robo-erotic art featured in Dior's pre-fall '19 collection (above).
As much as Jones' spin on Dior Men is glorious in its uniqueness, deep respect for Dior's house codes is visible in each collection. From reinventions of the Saddle bag, to his oblique-cut suit (a reference to Dior's famously fitted tailoring across menswear and womenswear), Jones' pieces add his unique stamp of approval to house icons, without compromising any of their timelessness.
Keep scrolling for four Jones-era Dior Men innovations that are as unyielding in their timelessness as they are unflinchingly cool.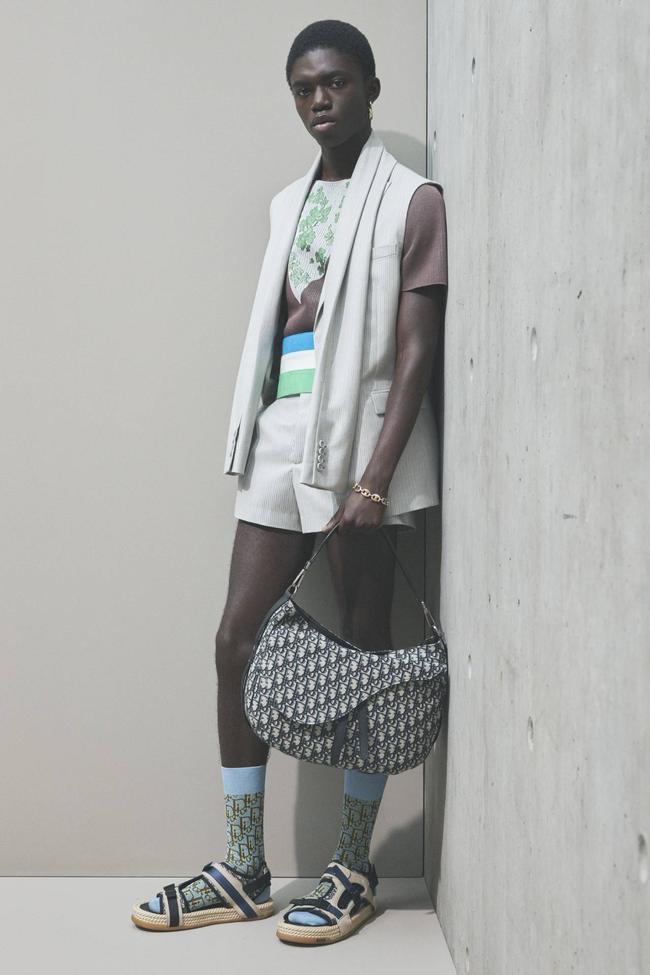 Saddle bag
Arguably one of the most famous bags ever invented, the Dior Saddle bag is a different kind of timeless – effortlessly complementing the clothes you already own, and bringing any outfit up a significant notch.
A brainchild of former Dior creative director John Galliano, the Saddle was instrumental in making Dior cool, and youth-relevant, in the early 2000s (the brand previously had its roots in elegant formalwear for the more established customer). While Saddles were originally intended for womenswear customers, Kim Jones proved that the distinct bag shape – recognisable for its slanted flap – could be effortlessly reinvented for the menswear buyer.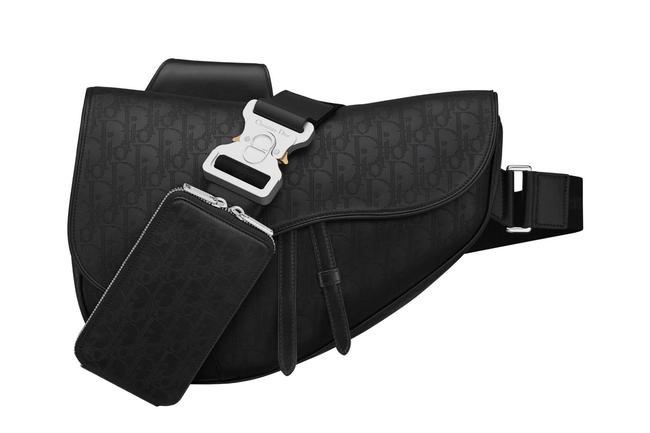 Across seasons, Dior Men has shown various new iterations of the Saddle, from small belt-bag styles to large carryall versions that are able to fit far more than just your wallet. For the first time, the maison has created a maxi-size version of the bag, incorporating the classic shape into a more versatile variant. The metal airplane-style clasp is another of Jones' many enduring and cohesive styling traits, adding a boldness that's emblematic of Jones' aesthetic.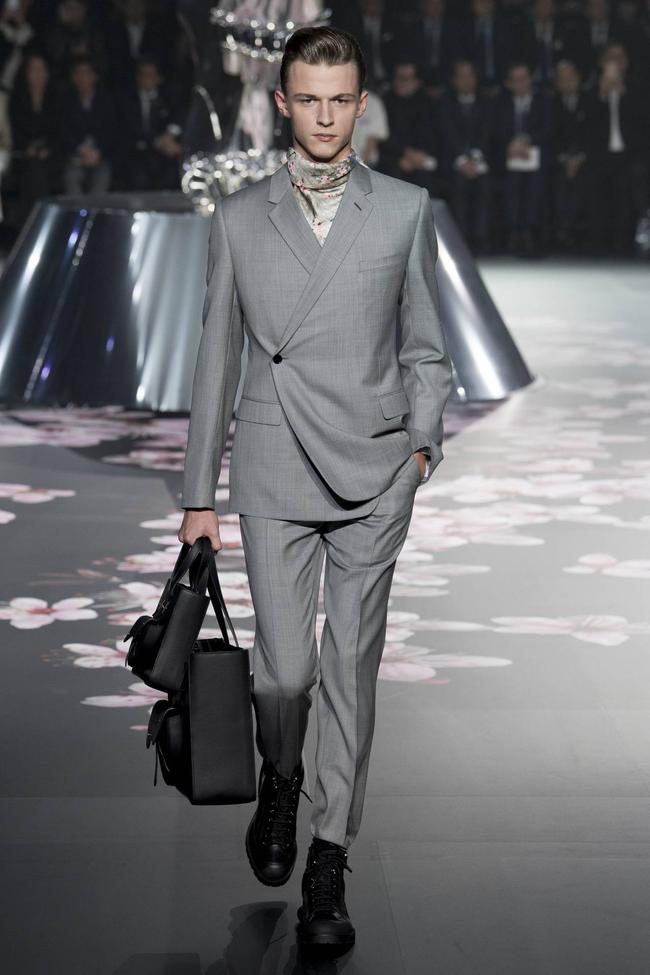 Oblique-cut suit
We speak for everyone in saying we were unanimously wowed after seeing one of Kim Jones' asymmetrical-cut blazers for the first time. The style has become a staple of Jones' time at Dior Men, with the 'oblique' (slanting) cut making them a simple-albeit-enduring wardrobe classic.
As if the look couldn't be made any cooler, Jones' elevated it to a new level of dapperness at pre-fall '19 (pictured), crafting each look in a distinctive sheeny silk that lit up metallically in the camera flashes. This aesthetic was continued in 2021, with recent collections showing structured-shoulder variations in a military-uniform style.
Who knew such a small deviation from a classic tuxedo could make such a statement?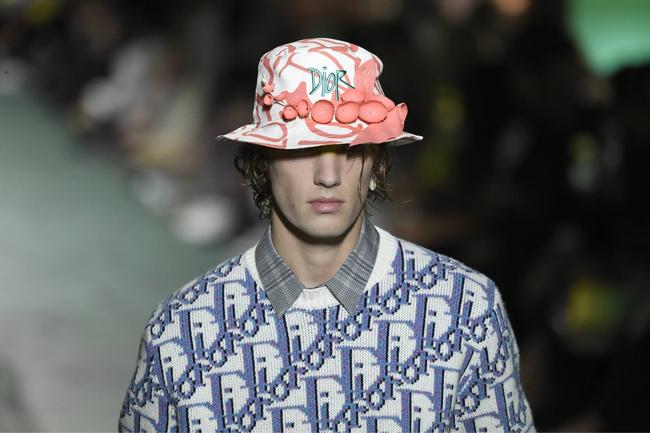 Monogram
One of the most recognisable monograms in fashion history, Dior's oblique monogram print has become a staple under Jones' Dior vision (pictured at Dior Men pre-fall '20). Appearing on the Saddle bag in all sizes, the monogram is also present on Jones-era hats, belts, coats and shoes.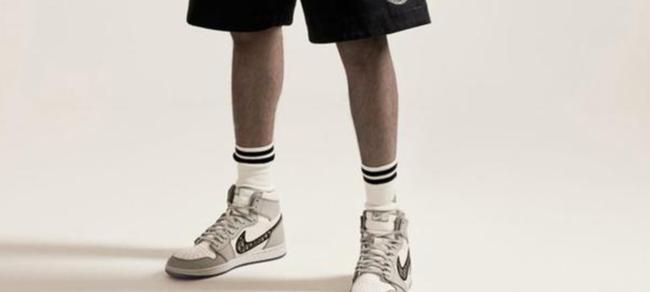 Dior Air Jordans
Introduced as part of a one-off drop, Dior's Air Jordans spin-offs have become one of Kim Jones' most enduring pieces throughout his time at the house – not to mention, one of the most difficult to get your hands on.
The shoe – a limited version of Nike's famous Jordan Air 1 silhouette, with a Dior monogram-adorned Nike tick – was released in 2020, catching the eyes of sneaker aficionados and fashion archivists alike. Limited to one-pair-per-customer, the drop sold out almost immediately. You can now snag a pre-owned pair on some re-sale websites, even though prices range well into the five-figures.
Fashion collaboration capsules are a dime a dozen, but when labels with as strong cult followings as Dior and Jordan combined their powers, the precedent for brand collaborations was set for good.
Sources from: GQ Australia